After the Glow Eye fight to win. Eye can't fight alone.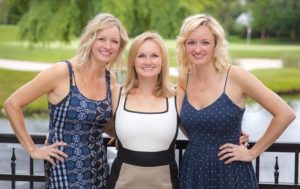 Co-Founders/Sisters
Jackie, Caitlin, Jessica
After the Glow is a 501c3 Non-Profit Organization that raises awareness for Retinoblastoma and funding for families receiving treatment locally at Children's Hospital Of Philadelphia (CHOP).
After the Glow is a 501c3 volunteer nonprofit that consists of a community of friends, family, and corporate sponsors that have come together to help raise funds to fight Retinoblastoma. Retinoblastoma is a pediatric cancer of the Retina. Each year doctors diagnose more than 5000 cases of Retinoblastoma, making it the most common eye cancer in young children. Awareness is key for Retinoblastoma, as many doctors fail to recognize and screen for Retinoblastoma during early appointments, which can lead to lower outcome rates for patients.
After the Glow is dedicated to raising awareness, funding, and support for families battling Retinoblastoma and other childhood cancers. Our organization was inspired by Liam, who was diagnosed at his 6-month check-up with bi-lateral (both eyes) Retinoblastoma.  Treatments can last for years and include monthly exams under anesthesia, MRI, chemotherapy, laser, and cryotherapy.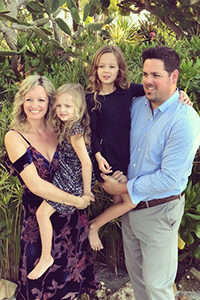 President- Kevin Sheridan
Kevin was born in Philadelphia, PA and currently lives in the Philadelphia suburbs. Kevin is the President of EJS Medical, a medical device consulting company. Kevin helped put into action the idea of our nonprofit to help families offset travel expenses with his good friends Tim and Steve in 2016. In his spare time, he enjoys spending time with his wife Jackie and their daughters Ella and Reese. Kevin enjoys golfing, Philadelphia sports, and camping at his Cabin.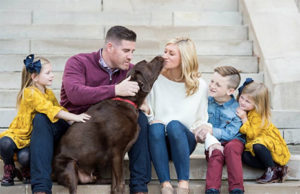 Vice President- Tim Filewicz
Tim was born in Philadelphia, PA and currently lives in the Philadelphia suburbs. Tim is a Producer at Arthur J Gallagher, helping clients address risk and protect their assets and recover from losses. Tim has been instrumental in creating corporate sponsorships and key lodging initiatives while at After the Glow. In his spare time, he enjoys spending time with his wife Alexis and their children Ryder, Adalynn and Campbell. Tim enjoys coaching, CrossFit, golf, and spending time with his family at the beach.
Treasurer- Steven LaPorte
Steven is an Advisor with Legacy Planning Partners providing comprehensive financial planning to individuals, families, and businesses. From 1998-2006, Steven was a Senior Vice President and Senior Portfolio Manager with Smith Barney/Citigroup Global Markets, Inc. In 2006 he launched his own private Asset Management practice, La Porte Asset Management LLC. Here he provided personalized planning services and hands-on independent investment management. Steven attended West Chester University from 1994-1998 where he earned a Bachelors of Science Degree in Finance. Steve lives in Ambler with his son Tanner. He enjoys spending most of his free time coaching and supporting his son's sports teams, but when time permits, he can be found taking in a round of golf. Together, each spring and fall they give back to both the Walk for Hope to Benefit Crohn's Disease and the American Liver Foundation Signature Fundraising Event: The Liver Life Walk.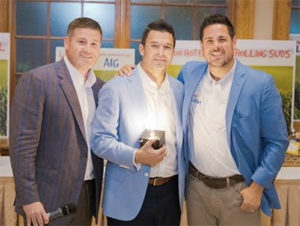 Board Member- Bobby Andrews
Bobby is the GM of The Clarion Hotel, and a vital board member at After the Glow. Bobby joined the board in 2018, after being awarded Love From Liam's "After The Glow Award." Bobby's commitment to families traveling to Philadelphia to receive treatment for Retinoblastoma has helped shape "The Mighty Max" lodging fund into a vehicle within our organization that provides reliefs for hundreds of families. Bobby enjoys spending time with is wife Jennifer, and his two sons Brendan and Bobby. Bobby enjoys coaching and playing soccer, red wine, and traveling.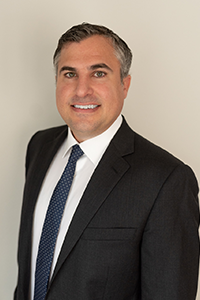 Board Member- Matt Vannucci
Matt is a real estate and business development executive in the Los Angeles area. He is currently working with Givebox, a fundraising, banking, and payment solutions for nonprofits, and joined After the Glow in 2018 – spearheading west coast operations and fundraising. In his spare time, he enjoys spending time with his wife Missy and daughter Ella, golfing, cooking, watching the Steelers, and eating LA street tacos.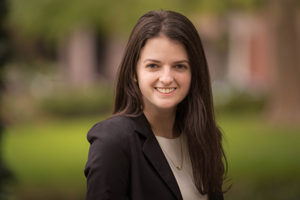 Creative Director- Sydney Bromfield
Sydney's passion for giving back led her to After the Glow and her experience with non-profits and marketing made her the perfect fit for our team. Sydney brings a different view to our team and has grown our brand significantly. In addition to her work on the After the Glow team, Sydney works in marketing/pr, has a love for all things design, and is always searching for her next adventure.
Make a Donation today in Memory of Mike McKeever.